How To Be Successful in 2021: 3 Tips For Effective Goal Setting
Most would agree that 2020 was… a different type of year. While it may have started off like any other – bright and hopeful, the outbreak of the coronavirus in mid-March meant putting a pin in those 2020 goals to refocus on your overall health and safety. After nine months of social distancing, quarantine, lockdown, working from home, social media overload, and the dreaded wearing of masks, we think it's safe to assume that you're ready to get back on track with those life goals; and we'd like to help you achieve those goals. Here's our take on how to be successful in 2021, and our secret really couldn't be any simpler: Effective Goal Setting.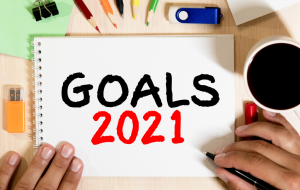 1) IDENTIFY WHY EACH GOAL MATTERS TO YOU
We've been through this process before. You start off the year with your New Year resolutions, all pumped and rearing to go, only to fizzle out after a couple of weeks and return to old habits and practices. For many, this is because there isn't a foundation or a purpose for their goals i.e. they haven't identified WHY these goals are important (or maybe, the reasoning isn't as significant as they thought).
Let's say you wanted to buy a car. In the age of the coronavirus, buying a car to decrease your interactions with strangers may hold more weight than buying a car to look cool in front of your peers. Therefore, you may be more likely to be successful in purchasing a car if your good health depends on it.
Take your 2021 goals and list all of the reasons why each goal is important to you. Spend some time figuring out what you expect your life to look like once you've accomplished your goal and most importantly, decide whether it's what you truly want. If it is, then great news, you're one step closer to achieving this goal.
2) SET OUT A PLAN FOR ACHIEVING EACH GOAL
If you've never heard it before, let us be the first to tell you: your goal is only as good as your plan to achieve it.
Knowing you want to travel from point A to point B is only one part of the jigsaw puzzle; the next part is establishing the route or how you intend to get to point B i.e. how you intend on achieving success. You can establish this "HOW" by breaking down each of your goals and making them more specific.
For example, if your overall goal is to get a technician's diploma, you can make this goal more achievable by breaking it down accordingly:
Which institution will give me a more credible diploma.
How long do I want to spend getting a technician's diploma.
Do I have enough time to pursue a technician's diploma this year
What type of technician's diploma do I intend to pursue?
Goal without breaking it down: I want a technician's diploma.
Goal broken down: In one year's time, I would like to complete an Electrical Maintenance Technician Diploma from Kenson School of Production Technology Ltd. (#shamelessplug)
Answering specific questions about your goal will help you better determine your endgame, and increase your likelihood of being successful in 2021.
3) KEEP YOUR GOALS WITHIN EYESIGHT
Quite self-explanatory, keeping your goals in a place where you can see them clearly every day, will keep them at the forefront of your minds and help guide your daily actions. Some people make huge vision boards and stick them up on their walls while others place their goals on their mirrors or on the wall next to their desks so that these goals are always in their faces.
Here are a few tips to keep your goals within your line of sight:
Choose areas you visit often, if not daily – e.g. your bedrooms, bathroom mirrors, work desks
Utilise bright colours in order to catch your attention – e.g. colourful paper or writing/font.
The bigger the better. Ensure that your writing or the fonts you use are huge and visible from a distance.
Forbes magazine released an excellent article on how to create your own vision board for 2021, have a read. 
BONUS TIP: CELEBRATE YOUR SMALL WINS
A goal, whether short or long term, will take some time to accomplish. In order to stay motivated on your journey, take time to celebrate your milestone successes e.g. getting accepted to an institution to pursue that technician's diploma or getting your loan approved for your upcoming car purchase.
Celebrating will give you something to look forward to the next time you accomplish a small win, and before you know it, you would have accomplished your goal (or goals) for 2021.
Good Luck!