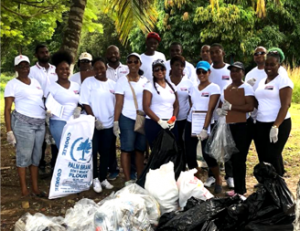 About The Day                              
International Coastal Cleanup Day (ICCD), taking place on Saturday September 15, dates back to more than 3 decades. ICCD is a global movement that encompasses 6 million volunteers in 90 countries across the globe.
It is one of the world's largest annual preservation and protection events and volunteer efforts for our ocean, waves and beaches where communities rally together with the common goal of collecting and documenting the trash littering their coastline.
Some of the top five most commonly collected items on ICCD last year were cigarette butts, plastic beverage bottles, food wrappers, plastic bottle caps and plastic straws, respectively: all are forms of plastic debris.  While plastic is a very adaptable and durable material, it also makes for an environmental nightmare. Plastics do not biodegrade but instead they break down with exposure to weather and the sun's UV rays into smaller and smaller pieces. When these pieces infiltrate the environment, more so; marine environments, they wreak havoc on wildlife and the ecosystem.
In lieu of the threat to marine life, ICCD will be observed in Trinidad and Tobago.
The image depicts the beaches and bays across Trinidad and Tobago to be cleaned as well as the respective companies who have taken charge and joined in the movement.
The cumulative result is not only a cleaner and healthier coastline but also a raised consciousness for accessible actions people can integrate into their lives to promote healthy beaches on a daily basis.